Only Nissans that meet our high standards qualify for Certified Pre-Owned status. They must be less than five years old, with less than 60,000 miles on the odometer. Plus, they must have a clean, non-branded title and, most important, pass a 156-point Quality Assurance Inspection.

Benefits of buying a Certified Pre-Owned Nissan include:
84-month/100,000-mile limited warranty
Vehicle title history report
Vehicle title insurance policy
24-hour Roadside Assistance
Trip-interruption coverage
156-point inspection
Genuine Nissan parts
Factory-trained technicians
Optional Security+Plus Pre-Owned ''WRAP'' Service Contract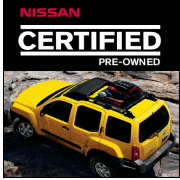 Rick Hill Nissan will provide you with vehicle title history, title insurance, and quality assurance inspection. It's time for you to put your Certified Pre-Owned Nissan to the test.
Every Certified Pre-Owned Nissan is backed by more than our word. First, a vehicle title history through TitleGuard+Plus helps ensure against hidden DMV title defects like salvaged vehicles, title fraud/forgery, evidence of odometer rollback, stolen vehicles and more.
After the paperwork checks out, itís time to get our hands dirty. Each Certified Pre-Owned Nissan must pass our award-winning, rigorous 145-point inspection covering everything from the engine and drivetrain to the seats and interior. This inspection confirms that the quality and condition of the vehicle meets or exceeds our own criteria. Even after it passes the vehicle title history and our own inspection process, it still must pass the most important test -- yours. Search our pre-owned inventory.

Rick Hill Nissan
2700 Parr Ave
Dyersburg, TN 38024
Phone: 731-285-6294
Fax: 731-285-4247
NEW VEHICLES SALES
Phone:
731-285-6294
Fax:
731-285-4247
Mon.
8:00 AM - 6:00 PM
Tue.
8:00 AM - 6:00 PM
Wed.
8:00 AM - 6:00 PM
Thu.
8:00 AM - 6:00 PM
Fri.
8:00 AM - 6:00 PM
Sat.
8:00 AM - 5:00 PM
Sun.
Closed
PRE-OWNED SALES
Phone:
731-285-6294
Fax:
731-285-4247
Mon.
8:00 AM - 6:00 PM
Tue.
8:00 AM - 6:00 PM
Wed.
8:00 AM - 6:00 PM
Thu.
8:00 AM - 6:00 PM
Fri.
8:00 AM - 6:00 PM
Sat.
8:00 AM - 5:00 PM
Sun.
Closed
SERVICE
Phone:
731-285-6294
Fax:
731-285-4247
Mon.
8:00 AM - 5:00 PM
Tue.
8:00 AM - 5:00 PM
Wed.
8:00 AM - 5:00 PM
Thu.
8:00 AM - 5:00 PM
Fri.
8:00 AM - 5:00 PM
PARTS
Phone:
731-285-6294
Fax:
731-285-4247
Mon.
8:00 AM - 5:00 PM
Tue.
8:00 AM - 5:00 PM
Wed.
8:00 AM - 5:00 PM
Thu.
8:00 AM - 5:00 PM
Fri.
8:00 AM - 5:00 PM
FINANCE
Phone:
731-285-6294
Fax:
731-285-4247